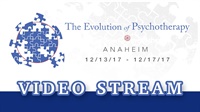 EP17 Video Stream Build a Bundle
Experience The Evolution of Psychotherapy 2017 Conference while at home, work, or on the move!
With 50 streaming video sessions - including Keynotes, Clinical Demonstrations, Workshops, Topical Panels, Great Debates, Conversation Hours, Speeches, and the Master Class - now is your chance to experience one of the greatest collection of masters of psychotherapy.
When you bundle multiple sessions together you can save up to 50% on your order!
Sessions begin at $29 each.
3+ Programs - 10% Off
5+ Programs - 15% Off
10+ Programs - 20% Off
20+ Programs - 30% Off
30+ Programs - 40% Off
Full Conference (50 Programs) - 50% Off - Click Here