Use the following instructions to complete access Evaluations and get your Certificate for CE credits.
Note: Evaluations will not be available until the conference has finished.
---
1. Log into your Erickson Foundation Account at https://catalog.erickson-foundation.org/Account/MyAccount
NOTE: Please use the password you made when you created your account. If you forgot your password, please click "Forgot Password".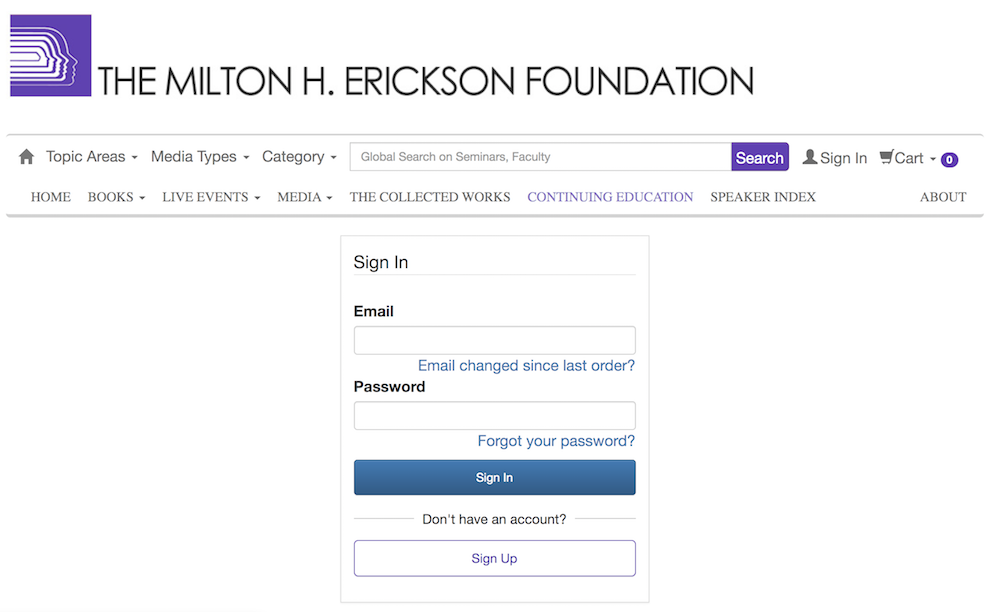 2a. Scroll down past your name and contact information to find the program(s) you registered for. You will need to follow these instructions for each day that is in your account (ie. Pre-Conference will be separate from Full Conference).
2b. Click on the orange certificate button.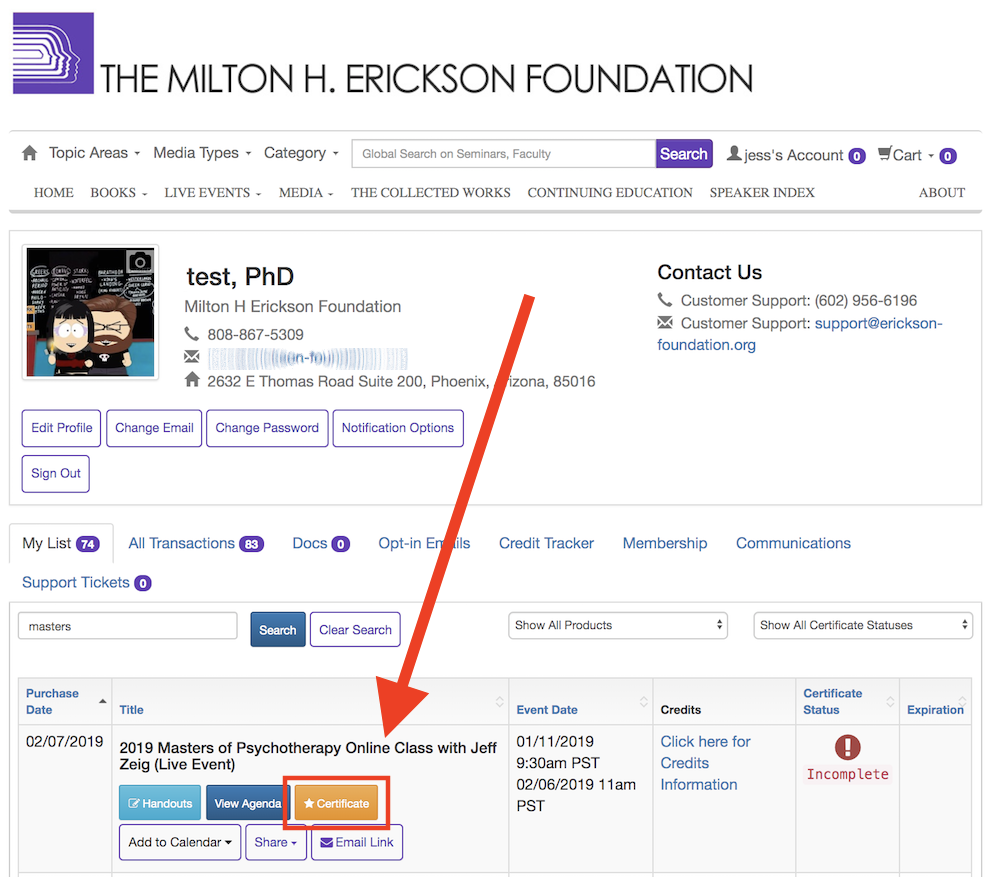 3a. A pop-up window will appear. Click on the Customer Attendance Confirmation link to expand the agenda for the event.
3b. From there, you'll be asked to select which of the seminars you have attended. Either select the program you attended, or select the option for "I did not attend a session at this time". Then Click on submit.
After that, evaluations will show up for each program attended. Click on the name of the program to expand those evaluations.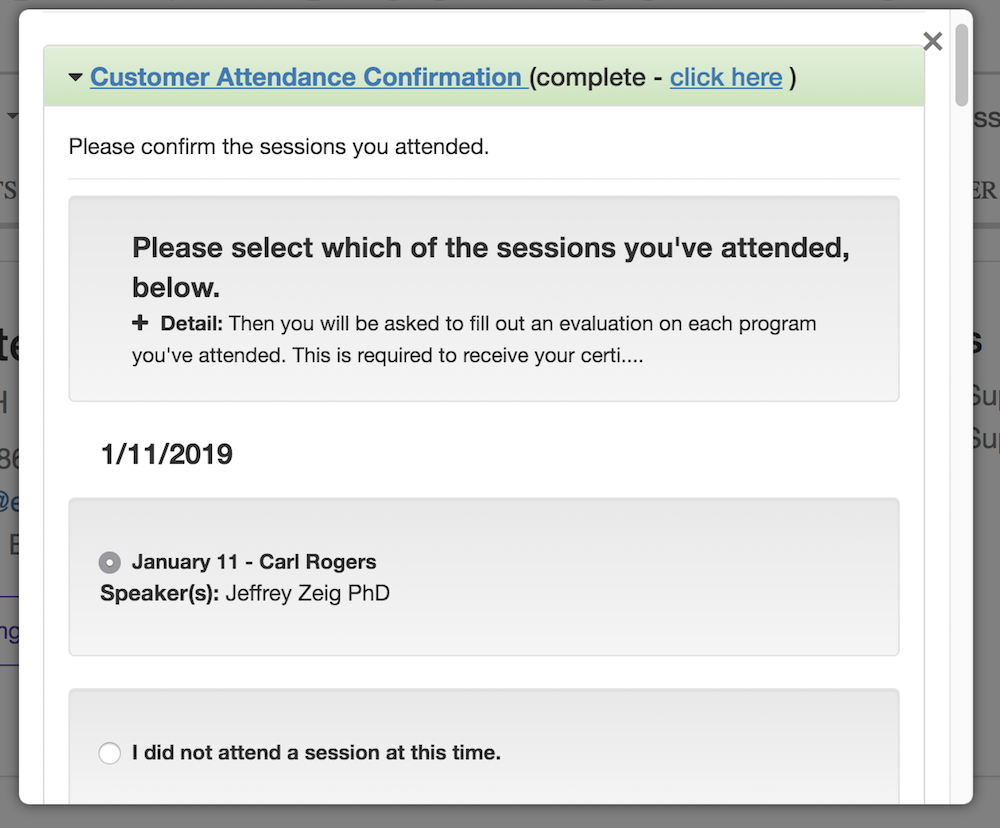 4. Please go through each Evaluation and provide feedback. You will need to do that for each session that you've attended in order to get your certificate. Any sessions highlighted in green are completed, any highlighted in pink need to be finished.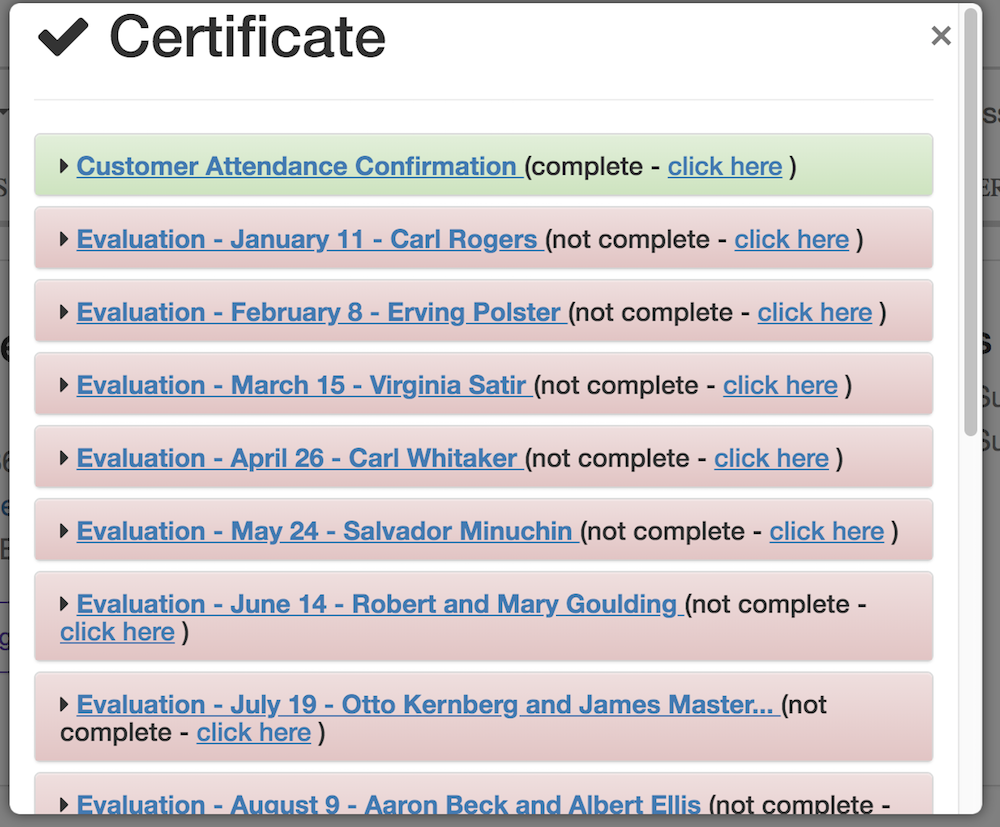 5.Once you have entered feedback for each session you attended, you will need to Agree with the Affidavit verifying your information.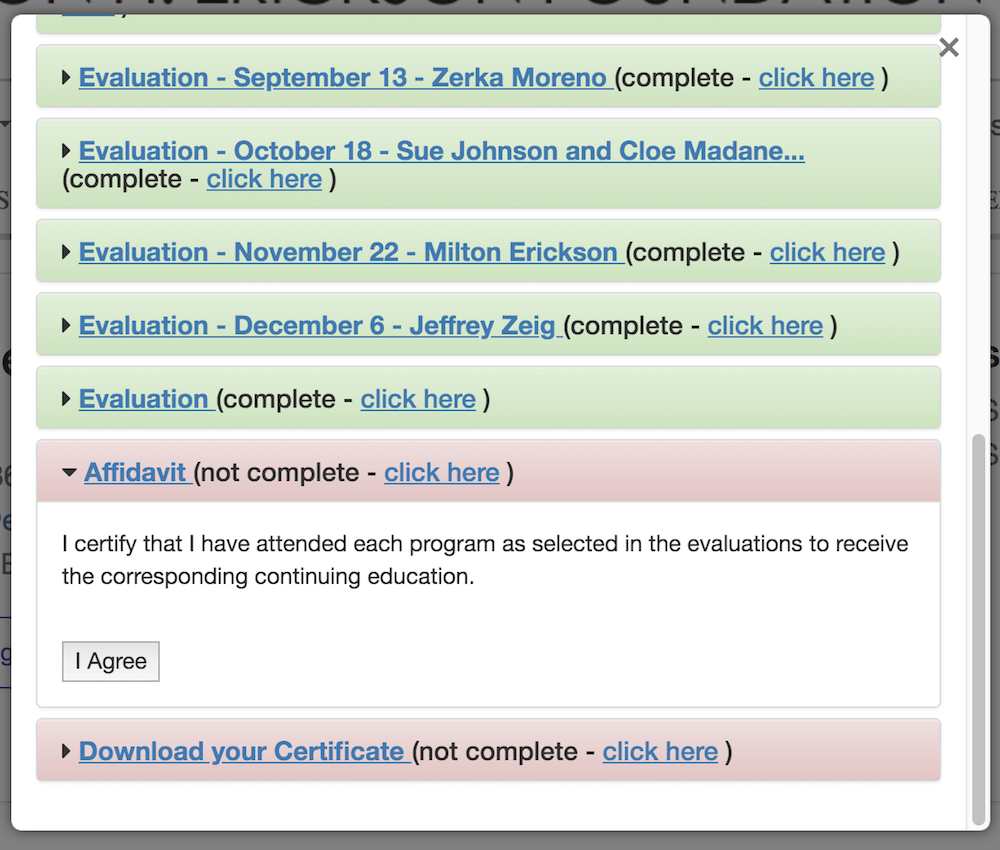 6. If you need to edit your attendance OR print out your attended conferences, please click on Customer Attendance Confirmation at the top of the window again to expand that field, and then click on the Edit button to change your entries, or the printer button to print out a list of your seminars.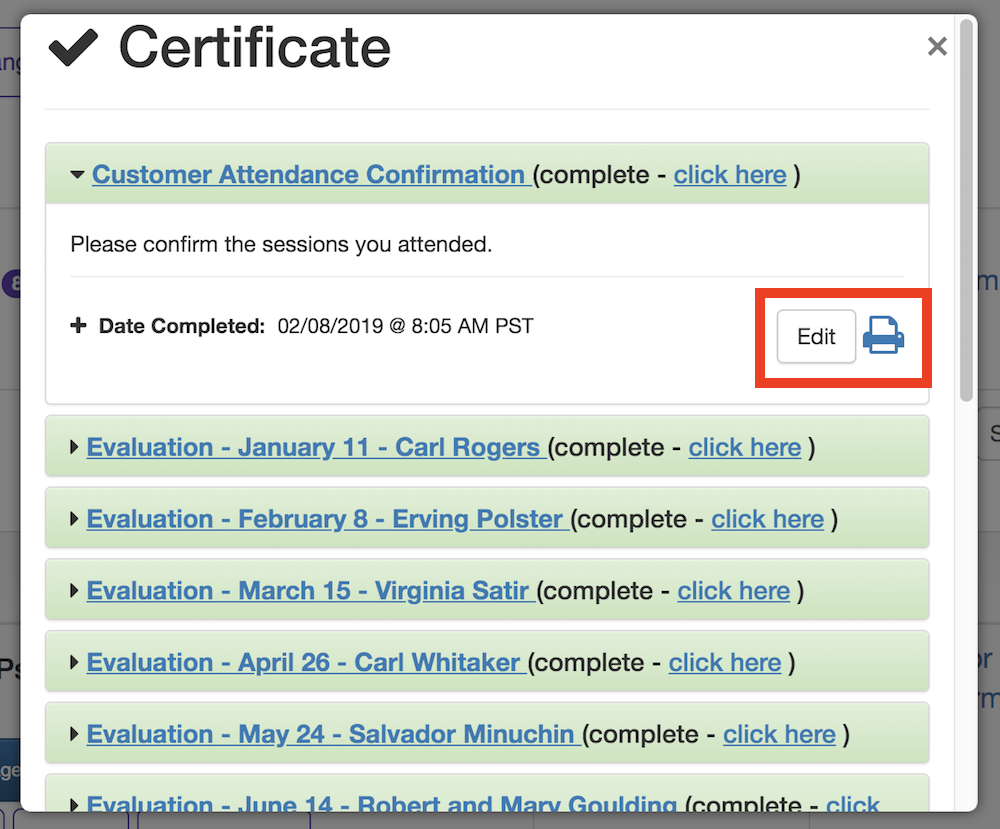 7. Once you have entered all the required information, the last section will provide you with buttons to either Download Certificate (so you can print it out directly), or Email Certificate to keep a copy for your records.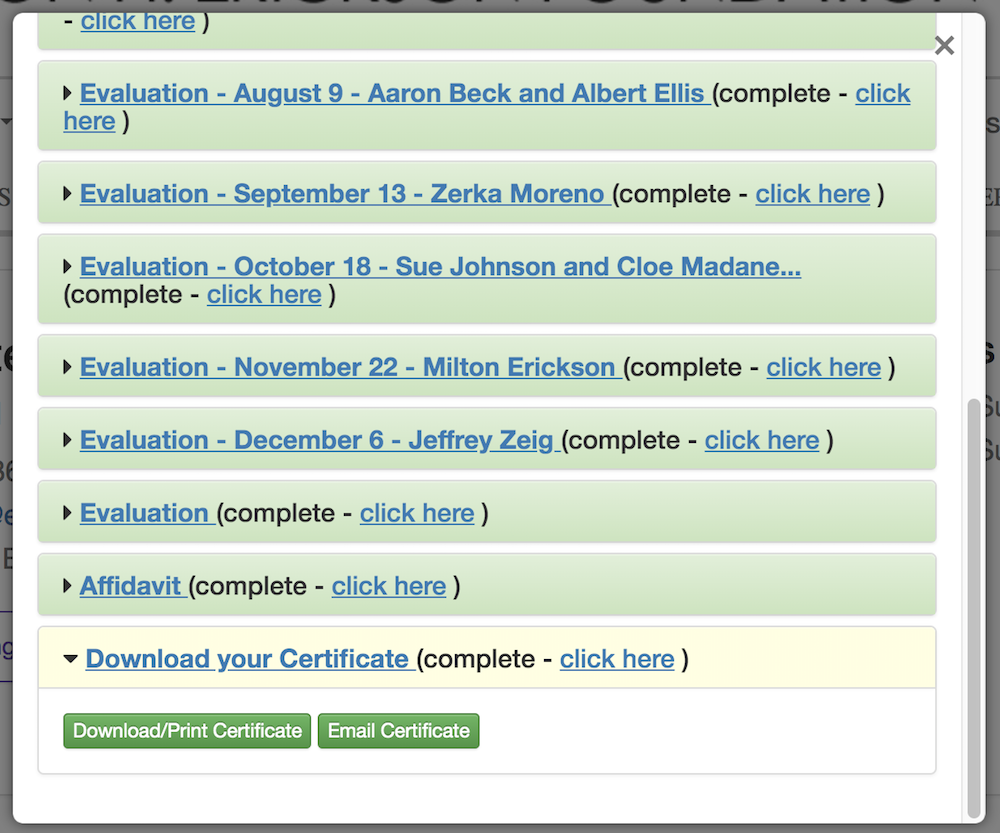 8. If you want to change how your name or credentials appear, click on your account link in the top right to go to your profile.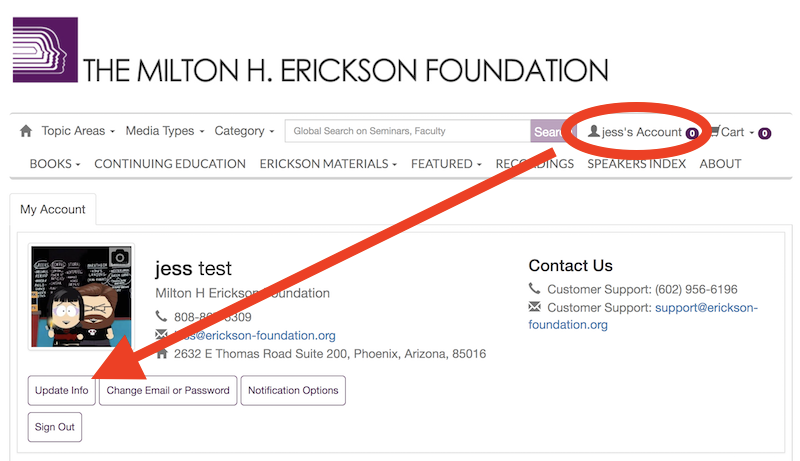 The info in the "Highest Degree" field will represent your credential and come after your name on the certificate. If you would like your license number to appear on the certificate, you may also add that on this screen.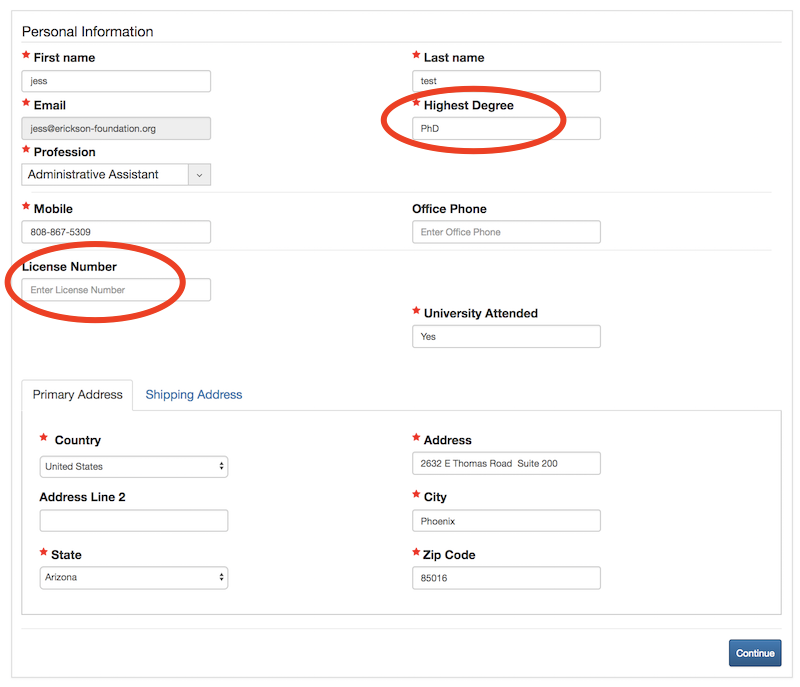 Click Continue to save. You can then navigate back to the Certificate link and re-download the certificate with the updated information.