Art of Psychotherapy - Experiential Series
Art of Psychotherapy
Experiential Series Recordings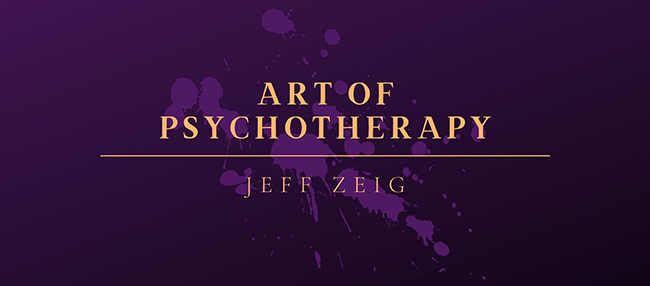 "It is not about choosing the right words but the way we make simple concepts come alive through using the rich tapestry of potentials in verbal and non-verbal communication."
Learn by living a brief session of psychotherapy. The Art of Psychotherapy classes feature live demonstrations of psychotherapy sessions in which Dr. Jeffrey Zeig implements various approaches to common patient issues. Understand how to prompt your client to realize hidden potentials and learn techniques that will guide you into perfecting your own style of therapy.
In the first round of the Art of Psychotherapy, we focused on Experiental methods to address clinical issues and guide clients towards their therapeutic goals.
Class 1 focuses on fear, especially related to fear of new circumstances and experiences.
Class 2 focuses on how to become more assertive.
Class 3 focuses on being more open with sadness and grief.
Class 4 focuses on impediments obstructing language learning.
If you didn't get a chance to attend these classes live, now is your opportunity to immerse yourself in experiential psychotherapy. Each class recording features a brief therapy session, as well as a Q&A response video for commonly asked questions. Some videos have a two month follow up with the client to review the effectiveness of the session. All videos have English captions and transcripts included.
Order this collection before the end of September for just $99.