Media
Through the Erickson Foundation's live events, we've been able to build an incredible catalog of high quality lectures, keynotes, workshops and presentations. Available in audio or video streaming formats, we provide decades worth of pioneering psychotherapy content.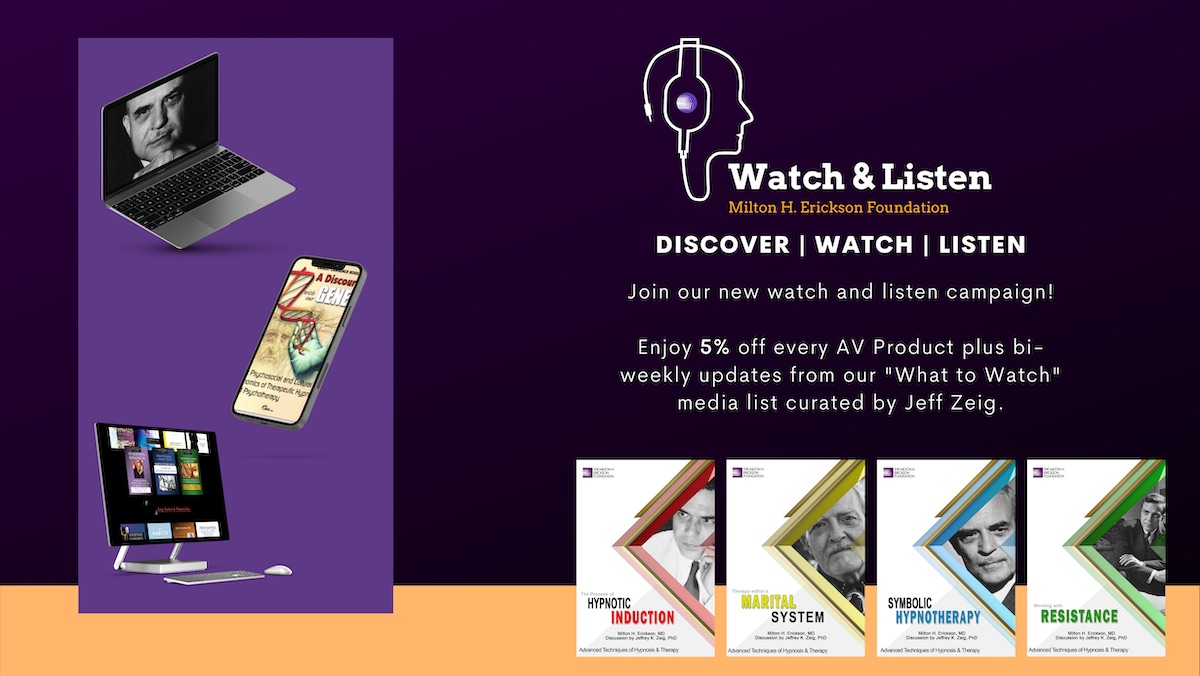 Curated Collections
Best of Evolution 2020
Didn't get a chance to attend the Evolution of Psychotherapy 2020 Conference? We got you. Here are the 7 most highly rated presentations for your enjoyment, featuring Jeff Zeig, Rob Kapilow, Michael Yapko, Erving Polster, Derald Wing Sue, Martin Seligman, Harriet Lerner, Daniel Siegel and David Burns.
Using Hypnosis
Most everyone will have pain in their body at some point. Some of it will be due to anxiety (18% of mental disorders in the US, annually) and past trauma for the others (about 8 million cases reported every year.) But hypnosis can respond powerfully to these issues, offering relief from these ills and yet, also address more. By offering people a chance to access their inner strengths and resources-- individuals, couples, and therapists alike can be reenergized and heal.
Turn Down the Trauma
Trauma sets the wounded person's mind to full blast on the event that injured them. Things like the present moment or the proverbial 'next' moment isn't perceivably relevant. No, not when all that seems to matter Is just surviving, mixed with hopelessness, and a sense of the person's "self" as fragmented. But now there is hope with the leading theorists, interventions, and clinicians. They promote sound practice to turn down the trauma and piece back together the harmony of life.
The Couples' Therapy Starter Kit
Relationships between couples contain unique problems that individuals could never know. Treating one person is complicated, but the relationship between romantic partners introduces complexity. Enabling couples to find simpler solutions will require the couple's starter kit to understand their world. Working with their ecosystem includes understanding elements instrumental to their success; boundaries, sexuality, intimacy, power differentials, and general systems theory are a foundation for any clinician's interest in treating relationships.
Mindfulness
Mindfulness provides a map for clients. Where they once were lost, unable to locate the feelings in their body, there is now direction. Being able to locate emotions, sensations, and whatever feels good or bad is like giving clients a bridge of understanding. It allows them to traverse from the felt sense of where they don't want to be, to where they want to go. But what can they do without direction to the nearest horizon, green pasture, or cool lake? Nothing.
The Conference Collection
Audio/Video